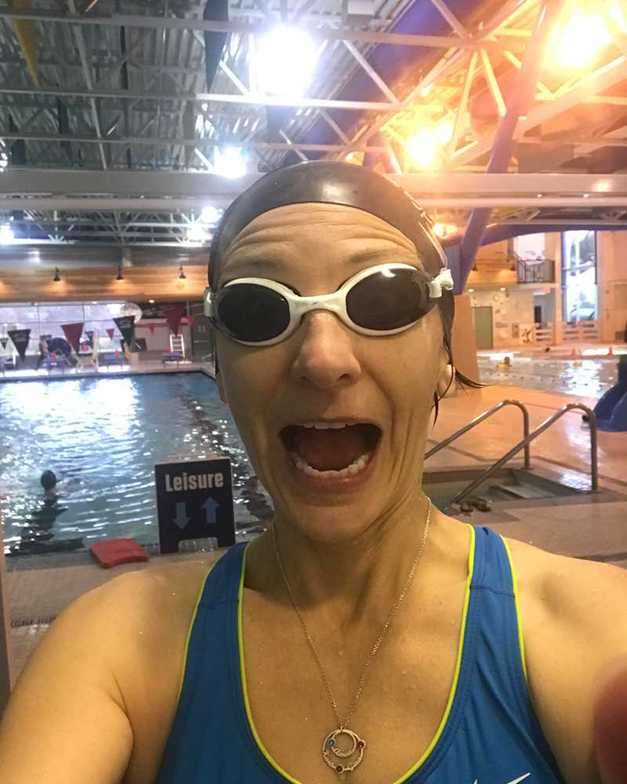 While insisting that all three of our kids continue with swimming lessons right to the top level, one may find it ironic that I can barely keep afloat.
I'm not fussy about water, I don't like to be cold and can not put my head underwater without plugging my nose. This is pretty darn embarrassing to admit for a grown woman.
So at the age of … mumble, mumble – well a few weeks ago, I decide to take some private swimming lessons. My instructor, Colton, age 12 (or so it seemed) was very patient and every time he told me to do something, I said, "I don't like that." He would reply with, "That's fair, but we are going to do it anyway." Grrr.
So wet, cold, unhappy, I plunged my face in the water time and time again. Water in my nose, hair in my face, eyes all squinty, nothing about this is fun to me.
I look to my left and children are jumping into the pool with delight, I look to the right and the lap swimmers are swimming gracefully end to end. I don't know if I'm missing the swimming gene or what the heck is wrong with me, but I'm frustrated at myself.
I practice with the flutter board, I follow directions, I stay in the pool after my lesson to practice. I look at the rope that divides the lanes. I've always hated that rope. For as long as I can remember I've watched people swim under it while I typically (and ungracefully) scramble over it to avoid putting my head in the water.
Today, I psych myself up, take a deep breath and swim under the rope. I emerge on the other side unscathed. Hmmm, imagine that.
I send a note to my BFF, "I'm taking swimming lessons so I can beat your ass in the pool." I write.
BFF, "Bring it on bitch you'll never beat me."
Me, "Game on!
It's time to learn to swim. Nothing like a friendly little competition to light the fire of inspiration!
How about you?
What do you need to learn this year?
How will it serve you?
What will happen if you don't learn it?
Who can help you learn it?
What sort of inspiration/reward/motivation do you need?
Learning something overdue, it's just one more way to Live Your Life, Unlimited.
Stephanie Staples
Your Revitalization Specialist
Contact Me